The Pakistan constitutional assemblies passed a new election reforms bill in 2017. It was reported in the first week of Oct 2017 that the new bill has granted concessions to Qadiyanies (Followers of a new imposter prophet mirza Ghulam Ahmed Qadiyani), contrary to the Islamic identity of Pakistan.
Later, after strong protest from Tehreek E Labaik Pakistan, Tehreek E Labaik Ya Rasool Allah, Shaikh Rasheed Ahmed, and Pakistan Army, the amendments were taken back under the pretext of being a #clerical_mistake.
Tajdar E Khatame Nabuwwat Long March 06th November 2017 Lahore to Islamabad Faizabad Interchange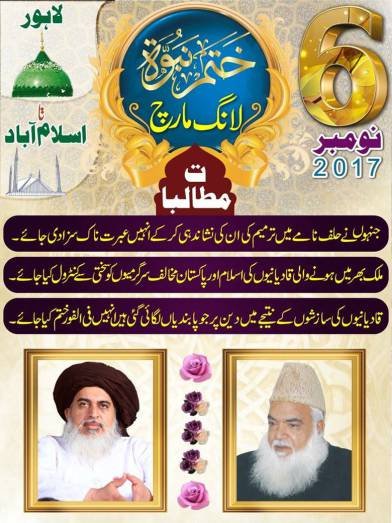 A committee was formed under Raja Zafarul Haque to investigate the matter. He informed after investigation that it was not a mistake but well planned conspiracy against the Islamic identity of the constitution of Pakistan. Pakistan army also gave strong response against these amendments through #DGISPR press conference.
Tehreek Labaik Paakistan under the leadership of Ameer Ul Mujahedeen Allama Khadim Hussain demands that the culprits be informed to public and should face trial for being the part of conspiracy. To make the demands noticed, a long march is organized from Lahore to Islamabad, Peshawar to Islamabad and Kashmir to Islamabad on 06 November 2017.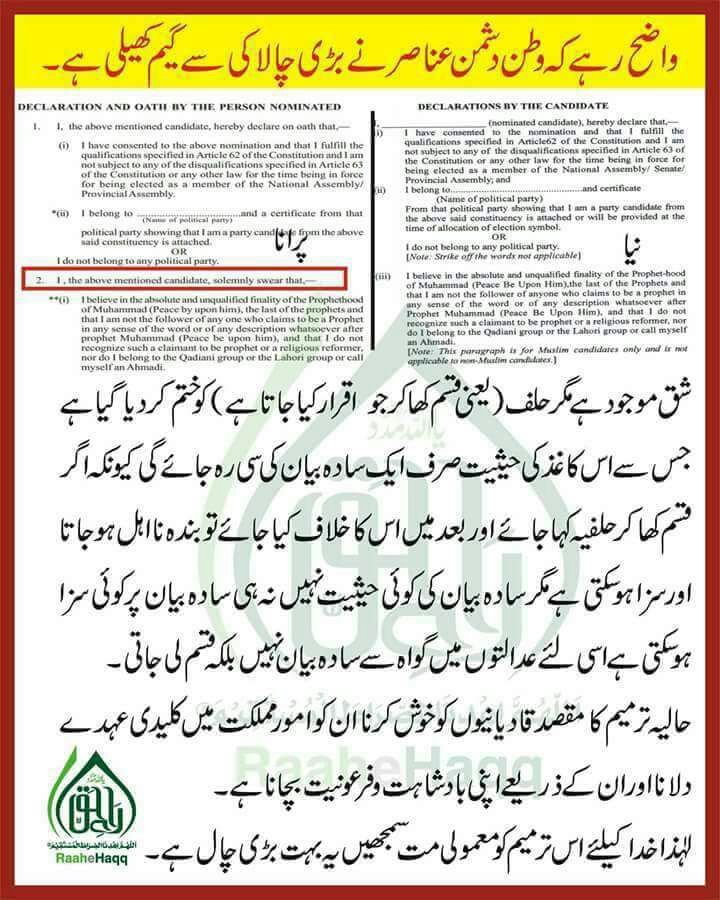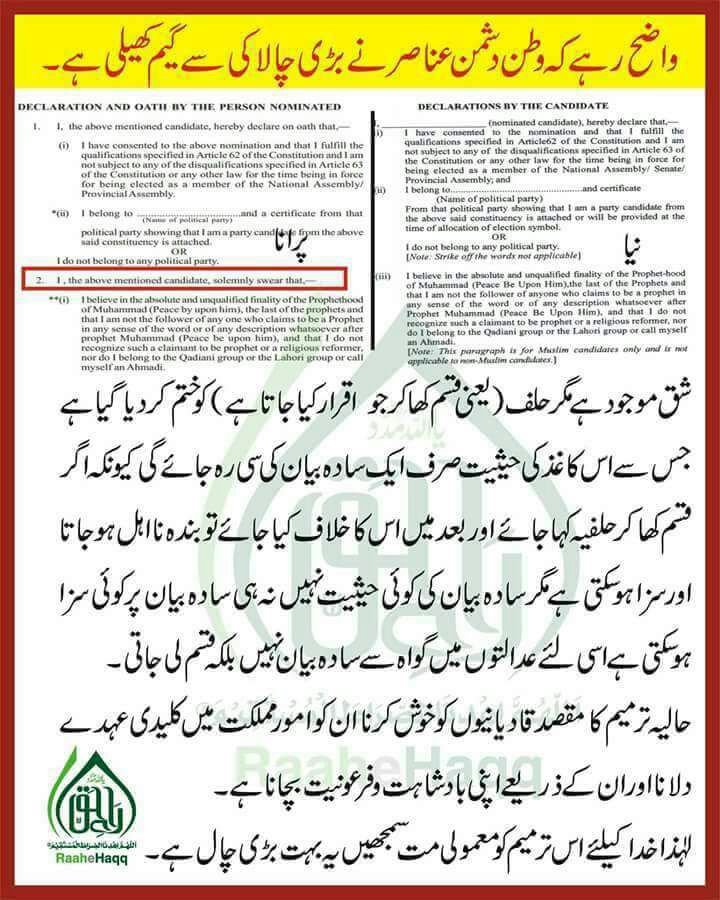 Seeing anti-Islamic and pro-Qadiyaniet tilt of PMLN, it is plausible to assume that PMLN took the amendment back due to pressure on its leadership because of corruption mentioned in Pananma leaks and not because it was a mistake. Therefore the long march has to send strong message. At the time of writing these lines, the march is passing through Gujranwala and the participation of lovers of the Holy Prophet Muhammad (Peace and countless blessings of Almighty Allah be upon him) is huge in numbers and high in passion.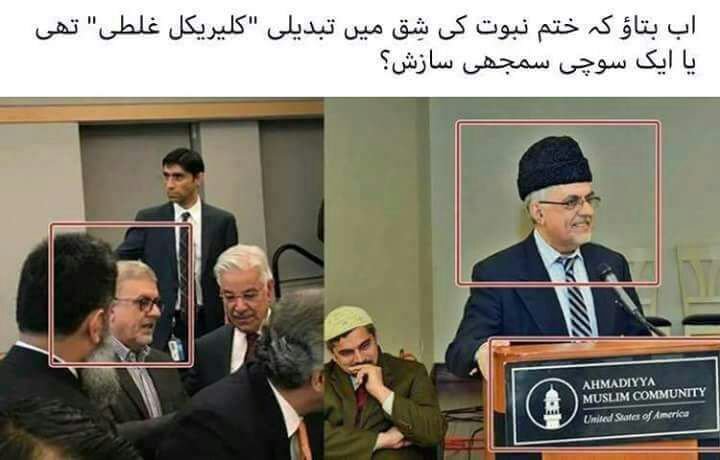 The role of classical religious political parties has been disappointing in this episode. Firstly they were dumb when the election reforms committee was having discussions and did not extend full political pressure to avoid amendments harmful to Islamic spirit of constitution. Secondly they started crying when the matter was picked by main stream media, ISPR and Tehreek Labaik Pakistan. The interior minister Ahsan Iqbal had perfect line whem he answered the tweet of Jamat Islami Ameer Siraj ul Haq that his party had been part of the amendment all this time. So why cry now against us?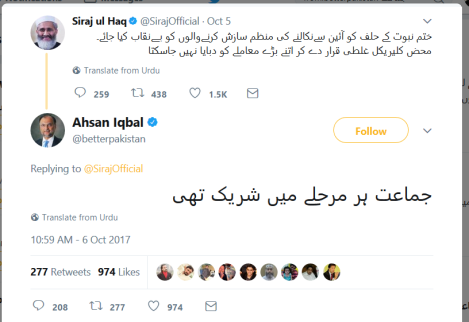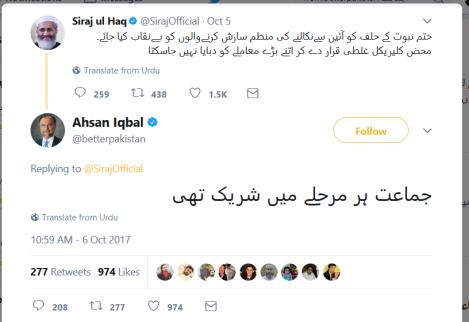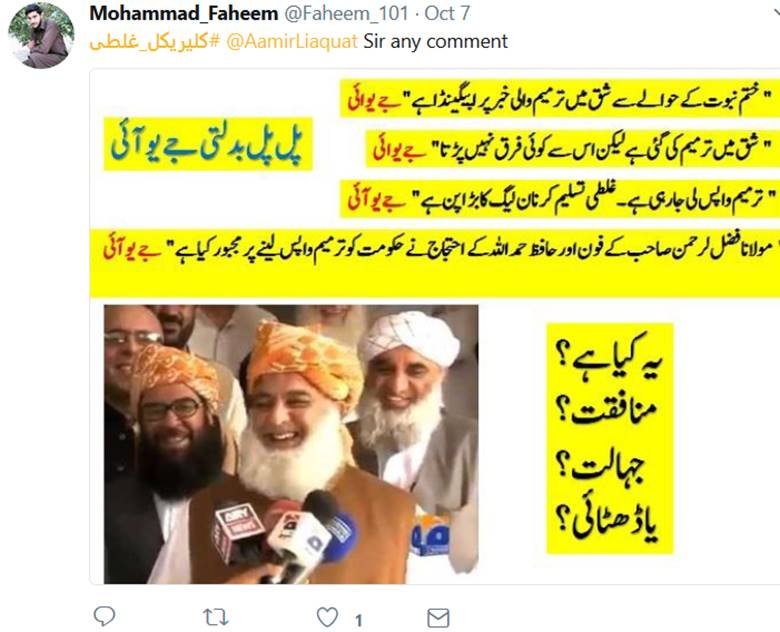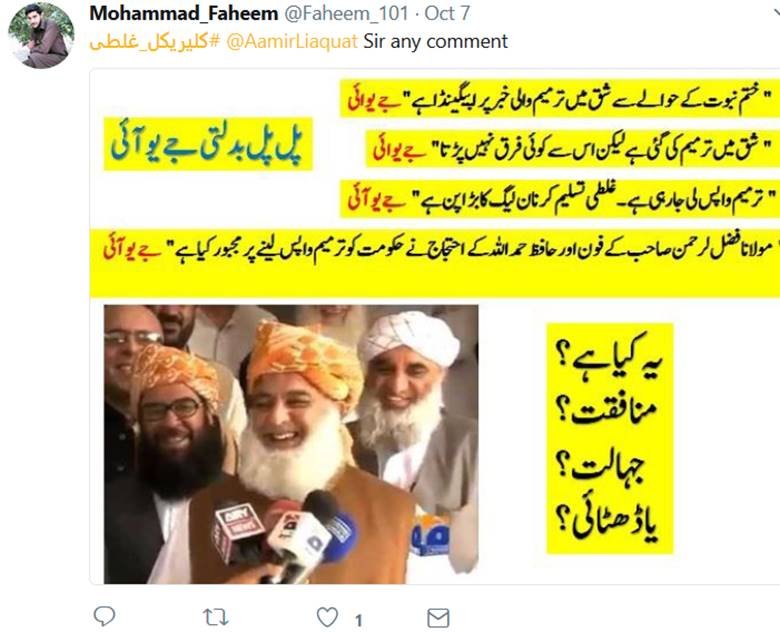 The Jamiat E Ulmai Pakistan headed by "Molana" Fazal ur Rehamn took several U-turns, all aimed at face saving of PMLN, elaborated by following meme.
Now the Amir ul Mujahedeen Allama Khadim Hussain Rizvi has took the driving seat of caravan for protection of Khatam E Nabuwwat and the masses are saying "present" on his call as demonstrated in current long march and few months back in the by-election results of #NA120 and #NA4